Monthly Archives: May 2011
Our most famous homebred MOR CHANCES just ran 2nd at Belmont putting his earnings over $500,000. What a neat little war horse.
Last Night we had our last foal for 2011. Over 90% of our foals this year were colts. Daughter Elizabeth says it just increases our chances of having a Kentucky Derby horse in 2014. We are still three weeks ahead of Mucho Macho Man's foaling date! Unfortunately or fortunately (depending on how you look at it) […]
Winner #7 for the month of May!! On Z Run (homebred) won the 5th race at Indiana Downs last night by 7 1/2. Congratulations to Jerry Merritt & P.Lauer. Just in the nick of time.  Right before the weather hit and they canceled racing after the 6th race.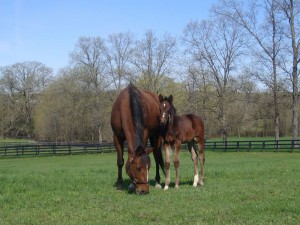 Enjoy these photos of a colt out of Caught In a Pinch, by Catienus!